Tibet Tours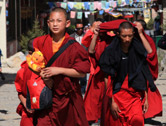 Tibet Tours are dedicated to explore the mystery of its natural beauty, history, culture, religion and its people. To most visitors, Tibet is the most mysterious destination. The enchanting beauty of its land and unique culture, Tibet attracts millions of tourists from around the globe each year. Whether you want to spend a few days in the capital of Lhasa or spend two weeks touring monasteries and seeing Mt. Everest, our Tibet tour consultants can customize a Tibet tour itinerary just for you. With the help of our travel experts, your Tibet experience is guaranteed to be afun, exciting and life time memory.
Recommended Tibet Tours
My Questions *We welcome and appreciate your questions & reviews
User Comments
Question:We are planning a trip to Tibet in 1st week of August this year. For this purpose I would like to get an example tour itinerary and a quote. Our requirements would be: 4 people, tour starting in Beijing, 8-9 days, All permits, tickets, hotels and transport included. Please also quote the currency and mode in which payment is to be made.
Answer:We are very glad to hear from you. And it's a great honor for us to give you an arrangement for your Tibet Tour. I have made an initial tour itinerary for you, pleaes check and let me know your idea.
Question:We are 4 people that are going from Ho Chi Minh City Vietnam to Lhasa China departing SGN on July 15TH returning from Lhasa on July 20TH. We already have our flight booked and obtained our Chinese visa. What we are looking for now is an experienced tour operator to help us with a well-designed itinerary, as well as the tour permits for all of us to Lhasa. And if your tour comes with meals we would like to eat in great restaurants. Besides, we will need a van while on our tours in Lhasa which is included in your price. Thanks Joe
Answer:Glad to receive your inquire and we are sure to give you a pleasant Lhasa tour. There is no problem for us to supply the tibet travel permit to Lhasa for you, and we will help to arrange your itinerary. Base on your situation, we suggest you take the 4-Day Lhasa Holy Tour plus one day side trip Yamdrok Yumtso Lake. Meals in good restaurants and a vant will be included in this tour. The detailed itinerary and quotation are enclosed in the email.